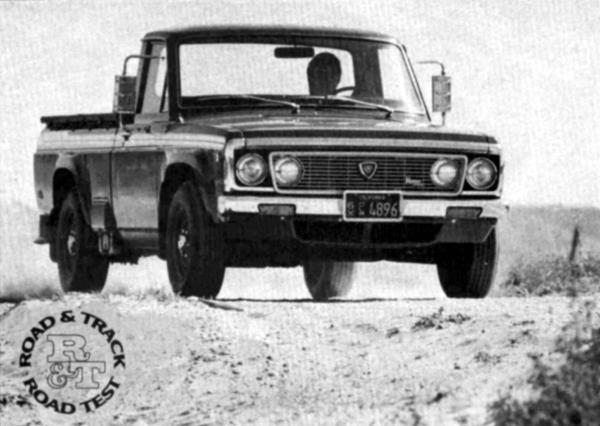 Before 1959 very few Americans had ever seen a small pickup truck. That year Datsun courageously introduced its little 1200-cc pick, but sales of that homely vehicle hardly took off like a rocket: by 1965 the annual sales rate on that lone entry was still only 5500.

But the idea of a light, compact pickup began to catch on in the early 1970s and in 1971, with Datsun and Toyota the only makes in the market, 90,000 were sold. Once a market is obviously solid and growing, it never takes Ford and GM long to do something about it, and in this case the two American giants decided to import their own Japanese pickups rather than build them in America. Chevrolet turned to Isuzu, Ford to Mazda. And Mazda of America joined the group with a pickup almost identical to the one Ford was selling but with a different engine. By 1973 the for -- or four, if you prefer -- little pickups were able to rack up 232,000 sales in a year. If the fuel shortage continues to have an influence on suck matters as many as 300,000 could be sold in 1974 -- assuming they're available from materials-short Japan.

Until the Mazda Rotary Pickup came along the five little pickups were about as similar as vehicles build by four different companies could be. All had overhead-cam inline 4-cylinder engines, 4-speed gear boxes, independent front and leaf-spring rear suspension and roughly similar performace. The biggest variation seemed to be in their styling, The Datsun being the "prettiest" of the lot, the Isuzu-Chevrolet rather similar to it and the Mazda-Toyota units having more angular, businesslike shapes.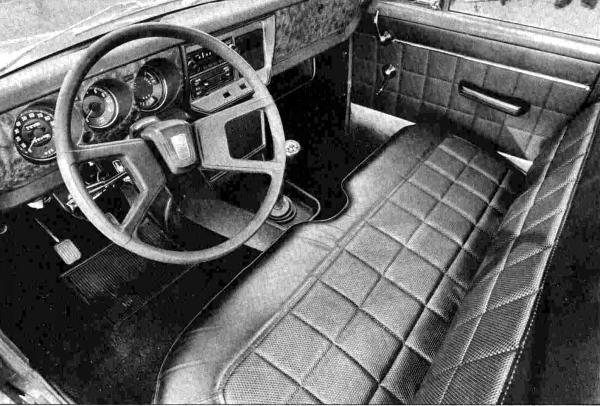 But now there's a very different small pickup -- you might even say it's revolutionary. Up to new, they were all modestly powered by American truck standards -- especially so when they were loaded -- and all rather noisy. What sets the Rotary apart from them, basically, is Power -- lots of smooth, quiet power very much like in the American idiom. And to make sure the world knows about it, Mazda has emblazoned ROTARY POWER across the pickup's tailgate with tape.

But there's a good deal more. Besides the 110-bhp Wankel engine from the RX-4 passenger cars and the manual or automatic transmission that go with it, there's a general upgrading of the pickup. Tracks are wider by a fill 6 inches in front and 5 at the rear and the body sides are flared boldly around tires that are also muck larger; there's a new grille and a supplementary air intake under the bumper. Fuel capacity is greater (a point we'll get to later) and the truck's interior is by a wide margin the nicest among the little trucks. And for the first time in its size class the Rotary Pickup has front disc brakes as standard equipment.

Little pickups -- or any pickups, for that matter -- aren't one of the vehicle types you normally read about in R&T, but currently there're one of the "in" things. They offer a lot of utility but are miserly with fuel, for one thing, but they also serve as personal transportation for many on a sort of reverse-snob-appeal basis. There's a wealth of customizing equipment available for them now: alloy or steel wheels, bolt-on rollbars, tonneau covers (or bed covers) and many miscellaneous items. From time to time R&T staff borrow the little pickups from PV4, our companion light truck magazine, to do weekend errands and hauling and we always return them with the wish that we could keep them. They're useful and fun.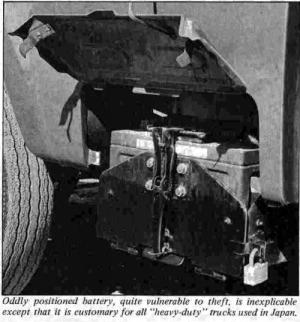 Being thoroughly familiar with Mazda rotary engine -- and generally well impressed with them -- we were naturally curious as to how one would work in the pickup. The RX-4 unit, largest of the lot, works outstandingly well. It's not as quiet in this vehicle as it is in the super-refined RX-4; a larger cooling fan sets up quite a howl even though it's on a viscous-drive coupling. But the engine is reasonably quiet and, as usual, butter-smooth as it pulls strongly up through the gears or merely accelerated impressively in top gear. As with the passenger cars there's a warning buzzer to keep you from overdoing it, coming on at something over 6000 rpm. We used 7000 rpm as a limit and found the pickup capable of 0-60 in 11 sec flat and the quarter-mile in 18.3: not as quick as the fastest American pickup, but peppy indeed.

But what about fuel economy? Mazda cars have been selling quite poorly this year because the EPA reported about 10mpg for all three of the rotary-engine cars the company sells here. That figure was for the cold-start, mostly city-driving tests the EPA runs to certify emissions, so it's to be expected that it would produce a low mileage figure. But 10mpg seemed low to us in the view of our own experience with Mazdas. Now the EPA has rerun its tests and come up with 12-13 mpg -- which seems about right for suck a stop-and-go routine -- plus a simulated highway test, for which the agency measured about 20 mpg. These figures are low for cars of the Mazdas' weight, no question about it. But for cars of their performance and refinement the mileage is not bad. The same can be said of the pickup. It did 16.5 mpg in our city suburban-freeway mileage test. But a typical American V-8 pickup with comparable performance, refinement of running and load capacity would do about 11 mpg in the same test. So until somebody stuffs a 110-bhp V8 or V6 in a pickup this light, the Mazda is a viable proposition for high performance with reasonable fuel economy.

Note that the engine is turning over 3775 rpm at 60 mph: this isn't what anybody would call tall gearing. But the Wankel engine needs high rotational speed by its very nature and it gives no sensation at all of being busy at highway speed. Its internal parts aren't that busy anyway: the two rotors are turning at a third of the speed of the output shaft. By the way, performance should be more than adequate with the optional automatic transmission; we've tried it in the RX-2 and found it quite sastisfactory. But it would lower fuel economy.

Everyone who pays attention to such things has chuckled at bouncing people in the little Japanese pickups, and the regular Mazda pickup with piston engine has been little different from the Datsun and Toyota in this regard. But we found the Rotary to ride relatively well for its type. Actually, the front end seems a little on the soft side, floating and oscillating on gentle bumps. The rear end is stiff, as you'd expect of a light mass sprung for 1400 lbs more weight that it usually carries, and of course the ride improves markedly when you start adding cargo back there. One thing in particular struck us, though. Most of the passenger cars we drive these days have radial tires and our experience with bias tires in receding into the past. All the little pickups come with bias rubber, and the Rotary with what are actually rather large bias tires goes across those annoying lane divider dots without a trace of harshness or rumble. Or rattles, for that matter; this pickup had fewer rattles; and squeaks than any in our memory.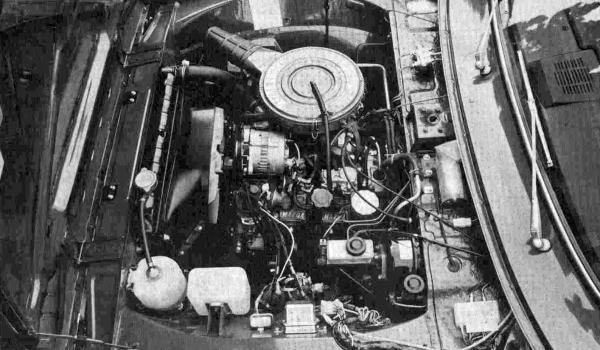 One doesn't think of driving a pickup like a sports car, but we found the Rotary's steering more precise than that of other little pickups and its handling response good enough to make brisk driving enjoyable. In the unloaded condition it understeers fairly strongly (suprosongly it isn't very nose heavy) and begins to pick up its inside rear wheel as the cornering limit is reached. Naturally, it's not going to take to hard cornering on a bumpy road, but on a smooth one it has curve capability to equal some of the less expensive small sports sedans.

The Rotary's brakes deserve special mention. Without complicated proportioning devices any pickup's brakes are a heavily compromised matter: the rear ones are likely to be overly eager to lock up when the bed is unloaded. Typically the small pickups' all-drum brakes have also been inadequate for full loads. The Rotary still has that tendency to lock its rear brakes on a hard stop without load, but we didn't have much difficulty keeping the truck under control and got impressively short stopping distances in out " panic" stops (In fairness we must mention that PV4 for an almost identical stopping distance from 60 mpg for the piston-engine Mazda.) And brake fade with the Rotary's disc-drum system was on a par with that of good contemporary sports sedans. In all, the Rotary's disc-drum system seemed more than adequate and capable of handling heavy loads too.

Another area where the Rotary pickup stands out from its crowd is its "cockpit." In a way a pickup is like a sports car -- seating for two (three in a pinch) and room for no more than a few Kleenex boxes behind the passengers. The small pickups' 4 speed gearboxes enhance this parallel. But the Rotary takes the impression much farther, with a set of instruments somewhat like the RX-2's: round, well marked speedometer, smaller round tach and a third dial containing three other instruments. These are set in a handsome panel (with fake wood trim) and the cab is carpeted. Only a bench seat is available; it has the usual pickup bolt-upgright backrest with no adjustment, not the least bit sportscar-like. And in the Rotary a center console makes caring a third passenger virtually impossible. A six-footer won't fond enough space either.

We found the Rotary's cab refreshing in one way: it is devoid of a bunch of buzzers and warning lights and the seatbelt interlock system afflicting today's passenger cars. Once again, we are left to our own judgment as to whether to belt up (we always do), or whether to leave the key in the ignition switch when leaving the pickup. It was nice. We felt almost like grown-ups again. The seatbelts themselves, though are not nice. Their shoulder straps are separate and tie into the main buckle with a connection that's apt to come loose -- hardly a satisfactory arrangement.

It the public can think clearly amid all the conflicting talk of Mazda and fuel economy, we think the Rotary Pick will be a success. It effectively opens up a whole new concept in pickups: high performance, refined running, good handling and reasonable fuel economy with half-ton pickup capability.